creative writing
WINTER BREAK CREATIVE WRITING

*Yawn*. Another day, same routine. I grab my phone immediately after I wake up from my not-so-comfortable couch that I sleep on.


*Facebook Messenger*. Hmm, no new message… *Home button*. I guess I'll play some iPhone games to wake myself up. *Bored*. Sigh. *Goes in kotatsu* Ah, It's so warm. Ohayo Ryutaro. *Opens computer*. Time for some Youtube browsing. *Mom comes in* "Of course the first thing you do when you wake up is games. Why don't you study huh? When are you starting your next college application? Are you even motivated? You're so lazy." Yeah, I get shit-talked every morning and that doesn't help. Okay, I work on school stuff later today. For now, I'm going to go ahead and watch some anime. Curled up in my kotatsu, my eyes glues onto the computer screen. Man I'm so bored. Maybe I should go outside. Actually no, it's kinda too cold. Mom I want food. *Eats brunch*. Nice. *Goes back to kotatsu*. Hm, now what… I'll Skype some friends and play games with them. *Time passes*. Wait what it's already 21:00? *Addled* Wow time flies. *Eats dinner* *Goes to shower*. Ah what a refreshment. *Goes back to kotatsu* *More games*. Wow what am I doing, I could be doing something more productive. Meh, I guess I'll start working tomorrow. *Times flies*. Oh my, 4:30… I should sleep actually. * Sleeps*…


I wasted my days by bringing in hopeless events into my life. Nothing productive, nothing I really enjoyed from deep inside my heart. Definitely not proud. I could of done better, but I never tried to make it better. I neglected doing homework although I deliberately planned out my studying schedule for the break. My sleeping schedule was slowly getting out of hand, and around the end of the break it infringed to the point where I didn't sleep at all. Why not use the time awake to study? I don't know, all i could do was play games or watch tv shows. I felt chagrin about myself, for not doing the things I could of done. I don't want to be in the habit of being like a "hikikomori". hell to the no. I tried to doff my negative mindset away from my mind but seems like i had some magnetic relationship with those thoughts, it didn't want to leave me.


My break was not all about staying home and not do anything though. I'd go hangout or sleepover with my girlfriend every now and then and those times were the best moments of my break. I finally felt like I was doing something good for the world. But that temporary joy soon went away and the futile days hunted me down. It all came back to me procrastinating, telling myself that I'd do my work. With this mindset, the winter break came to an end. School started and this sudden change in my daily routine ousted me from relaxing mode to I-have-to-work-hard mode. It was difficult at first. I had trouble concentrating on work, and getting motivated to study. Then it was that one class in precalculus. We started a new chapter and I was very confused to what was going on. As a person who actually enjoys doing math, I was very keen to fully understand the concept of the chapter. I love it when math is challenging. This gave me great motivation to start studying as hard as possible again. I started to concentrate in other classes as well. I was back in the game.


Powered by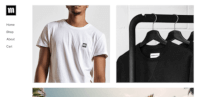 Create your own unique website with customizable templates.