Hamlet
CLAUDIUS: GOOD RULER OR POOR RULER?
Claudius is a king that appears as an powerful, wise king to the public but carries a dark heavy burden that makes him a terrifying person. His leadership allows him to become a good king meanwhile his personal actions makes him a bad person. In the beginning of the book, Claudius seems like an ordinary king except the fact that he married his sister-in-law. "Therefore our sometime sister, now our queen… Of these dilated articles allow" (I,ii,7-37) In this quote Claudius mentions how it may seem weird marrying his own sister at first, it had to be done. He then changes the topic to reclaiming land from Norway. He also mentions that he doesn't want any conflict with Norway. This displays how Claudius is a king who wants to take care of problems. But as the story moves forward the secrets of Claudius slowly leaks out. In Act 1 Scene 5 the ghost of Old Hamlet states that his death was not an accident, but a planned murder by Claudius. "'Tis given out that, sleeping in my orchard… The serpent that did sting thy father's life now wears his crown" (I.v.35-40). At this point it was clear that Claudius purposely killed Old Hamlet so he can overtake the king's title. As the story is about to come to an end, Claudius decides that he wants Hamlet dead. Obviously, killing Hamlet with the king's title will ruin his reputation, so he planned on making it into an accident, again. "No place, indeed, should murder sanctuarize… A sword unbated, and in a pass of practice requite him for your father" (IV.vii.127-139). He set up a "friendly fencing match" for Laertes and Hamlet to perform in, with Laertes's sword having a sharpened tip so he can penetrate Hamlet during the game. Although Claudius may be a bad person and is a malicious minded person behind the back, he clearly did know what he was doing as a king (the prompt of this free writing is about kingmanship, not as a person). Therefore, I think Claudius was a good leader.



HAMLET AND OPHELIA: IS IT LOVE?
Throughout "Hamlet" one of the biggest question that everyone probably had was whether or not Hamlet really loved Ophelia. That is because everyone started to think that Hamlet was losing his sanity because he was acting very sporadic in front of her, making it addle for us to see if his love for Ophelia was all just a dream.Yet, it is pretty obvious to me that Hamlet did indeed love Ophelia. "I did love you once" (III.i.116-117) was said by Hamlet when he was "alone" in the room with Ophelia. It was weird because few lines after he mentions how he never loved her, and starts ranting about how women are just whores. "I have heard of your paintings too, well enough… I say, we will have no more marriages" (III.i.143-148). That just makes it sound like Hamlet doesn't have any feelings left for Ophelia but that's not true. I think Hamlet actually knew that someone was eavesdropping their conversation, such as Polonius. After his confession he immediately asks where her father is out of nowhere, as if he knew something is up. He even said "Let the doors be shut upon him that he may play the fool nowhere but in 's own house" (III.i.143-44) as if he was calling Polonius out. Also In Act 5 Scene 1, when Hamlet discovers that Ophelia died, he confronts to Laertes who misunderstood Hamlet's love for Ophelia. "I loved Ophelia… Make up my sum. What wilt thou do for her" (V.i.255-277). Having Ophelia dead, there was no point of lying about his love to Ophelia, making what Hamlet said to Laertes his truth. Although Hamlet kept the readers confused until the end about his true emotions towards Ophelia, in the end it is proven that Hamlet really did love Ophelia, and his "insanity" drove us to bring up questions about his love life.

​

POLONIUS: GOOD FATHER OR BAD FATHER
Polonius was illustrated as a very caring, kind father in the book Hamlet. He was a father of two kids, Laertes who wants to study in Frace and Ophelia, the girl who Hamlet fell in love with. In the early stage of the book, Polonius gave us a really nice first impression when he was sending Laertes off to France. "There, my blessing with thee" (I.iii.58). These words describes how Polonius really wants Laertes to become successful in France. He follows his words with reminders to Laertes about several life lessons he needs to understand in order to survive alone. "Beware of entrance to a quarrel, but being in, bear't that th' opposed may beware of thee"(I.iii.65-67). He hopes that Laertes will be safe at all times, stays out of trouble, and be friendly to everyone he meets. Polonius is a very protective father towards Ophelia as well. When Ophelia discusses her love towards Hamlet, Polonius states "Affection! Pooh, you speak like a green girl… Do you believe his "tenders," as you call them" (I.iii.101-103). This is him telling Ophelia that she does not understand real love, and she is only being seduced by Hamlet. He wants Ophelia to notice that she should think twice about who she really wants to be with. Although he tells these things to her in a rather harsh way and makes him sound angry, the truth is he really cares about them, and that is why he gives these lectures to his kids. Therefore Polonius is a great father.

​
DID ROSENCRANTZ AND GUILDENSTERN DESERVE THEIR FATE?
In the story Rosencrantz and Guildenstern were two friends of Hamlet, who were murdered indirectly by Hamlet. I feel like the deaths of these two guys were very unnecessary, since there weren't beneficial for any of the characters in the play. One could say these two deserves to die because they broke Hamlets trust, and ended up "spying" on him for Claudius. But to be fair, these two guys technically didn't know that they were spying on them. They were being a good friend and was checking up on Hamlet every now and then, but actually was just being used by Claudius as spies. "With all my heart, and it doth much content me… and drive his purpose on to these delights" (III.i.24-27). Also, Hamlet was very aware of that these two were sent by Claudius. Guildenstern even told him "My lord, we were sent for" (II.ii. 284), but Hamlet didn't really react to it at the time. Hamlet started to feel like they were betraying him later, but he accepted the fact that they were watching him in the early stage of the story, so it's not fair how Hamlet could feel mad and rewrite the mail to murder them in the end. Hamlet loses his trust towards his two good friends. When the two were about to die, they reflect on what they did that brought death upon them. They made sure that they didn't really harm anyone and they both agreed. In fact that is true, but they indirectly hurt Hamlet's feelings, but they didn't do it on purpose. I actually commiserate their death because it is not fair for anyone to be sinned if they actually don't have any idea to why they committed a sin. It is a sin when you know that it's bad and you still do it. And so that is why I don't believe that Rosencrantz and Guildenstern deserved their death.

​
HAMLETS REVENGE: JUSTIFIED OR NOT?
Throughout the story, it was conspicuous that Hamlet grew emotions of anger and revenge as he slowly discovered the truth behind his father's death. He felt hatred towards Claudius who killed Old Hamlet to become the new ruler. But can revenge be justified? To what extent can killing someone for revenge be a okay thing to do. In my opinion, there is a line that you cannot pass when it comes to revenge. Maybe you lose a basketball game and you feel mortifying, and want to beat them again. That is how revenge should feel like. No violence. Don't level yourself with the other person. But Hamlet did. As he talks to the ghost, he is very eager to know the truth behind his father's death. He's letting his anger become his strongest emotion, which disrupts his thinking. "Haste me to know't… may sweep to my revenge" (I.v.29-31) He wants to take revenge as soon as possible, metaphorically said faster than a person falling in love. He needs to cool his head off first before he makes decisions. This is around when Hamlet starts to lose his sanity, and people started to call him "crazy". But we cannot the neglect the fact that Hamlet was also a target by Claudius, therefore maybe his only chance was killing him first in order to survive. But killing should not be the way to justify his father's death. They could of imprisoned Claudius so he can compensate his sins. But because everyone's emotions clashed during the fencing battle; Claudius wanted Hamlet dead, and Hamlet wanted Claudius dead. Innocent people accidentally dies, and it becomes chaos in the end, all because of this one emotion people held in their heart. Revenge. "Here, thou incestuous, murderous, damned Dane… follow my mother" (V.ii. 326-328). These were the last words Hamlet spoke before he poisoned Claudius. Hamlet's revenge should not be justified because it caused many unnecessary deaths in the end, and made him insane.

​

HAMLET IN THE 21ST CENTURY: DOES IT PLAY A ROLE
Although the time difference between the Hamlet and the 21st century is huge, I think Hamlet has the power that allows the story to have a role in this modern world. In the book, the characters portray keen feelings of revenge, love and sorrow which are emotions every person holds. The story can teach us valuable lessons about these feelings. In the beginning of the story, the ghost asks Hamlet to make up for his death, to kill Claudius. WIth anger about to be unleashed, Hamlet takes the offer. He even states that he felt something was up when Claudius and his mother got married as soon as Old Hamlet died. "Revenge his foul and most unnatural murder" (I.v.25). This teaches us not to make decisions at the spot. To make sure you can make decisions based on good thinking so you can make the correct decision. One must contain their strong emotions and think straight. We all know the famous quote by Hamlet, "To be, or not to be? That is the question...that makes calamity of so long life" (III.i.57-70). This is a well known saying because of the meaning behind it. Basically what he is talking about is suicide. He contemplates suicide, and describes how dying is like falling asleep. But then he realizes that maybe death is just a coward way to get away from problems. This is a great message to everyone who might go through sadness. It teaches us to fight back against sorrow, and it will be okay. Bawl as much as you want, let it all out, you have a better future for sure. After sadness comes happiness. That's what it is trying to teach us.


Powered by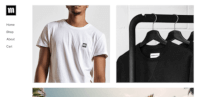 Create your own unique website with customizable templates.