People
Cotton Mather
Cotton was the son of Increase Mather and the grandson of John Cotton and Richard Mather, whom my group members also researched about. Cotton attended Boston Latin School, and added his name to the Hall of Fame, where famous alumni portraits are displayed. He then graduated Harvard in 1678, at the age of 15. After graduating, he then worked with his father as an assistant pastor of the North Church. Soon in 1685, he obtains full responsibility as the pastor of the church.

Besides being the head pastor of the church, he also wrote more than 450 books and pamphlets which influenced American literature. Cotton played the role as an ethical leader in the colonies and took care of 2nd/3rd generation of Puritans. One of the most famous book published by Cotton was Magnalia Christi Americana, a novel that consists seven books and two volumes which views the religious development of Massachusetts and other colonies in New England.

Cotton's writing was known for his biased perspective, where he points out many of his own personal life experiences to make his points. This is relatable to the persuasion technique ethos, as he uses his own ideas to persuade/ explain his thoughts. With his style of writing, he influenced the early American science. In 1716, with his unique writing technique, he observed corn varieties and helped conduct one of the first recorded experiments with plant hybridisation.
Powered by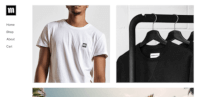 Create your own unique website with customizable templates.